Review
Red Rising by Pierce Brown

My rating: 4 of 5 stars
Fast Paced and Riveting
Red Rising is not the kind of book I'd choose for myself. For one, I usually stick to my romance but once in a while, I'll get a recommendation or the urge to read something different–I can be flexible if the story is gripping. And secondly, the writing style is straightforward, in a staccato-masculine way, and rarely flowery. Most of it is told rather than shown which is usually a big no-no from me. However, there was something… captivating that kept me reading. Perhaps it was the content, or perhaps it was how well it was paced, either way, the fact that I'm not docking more points is a huge deal. 


I found it fascinating that the story was likened to Hunger Games. Sure, there are similarities, however, I found that it was more similar to a warped mixture of:
Gattaca (remember that movie? Had to watch it in high school biology class, funny enough),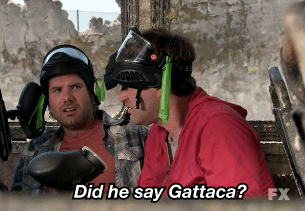 Brave New World (also reminds me of good, ol' high school) ,
Total Recall,
and… okay, fine, a dash of Hunger Games.


It was a clever combination that kept me going and wondering what would happen at the end. The world is so rich with the distinction of language and even clothing worn by the different classes. Each character had a unique voice and believable motivations that kept the story alive for me. And the last ⅓ of the book is quite the roller coaster. I was kept on my toes with all of the twists and turns that were thrown at the characters. Each failure and triumph kept me wanting for more.


Overall, I enjoyed this book and I want to buy the sequel. That is high praise. Despite my criticisms of the writing, I believe that it was a fun, and creative story that is worth the read.

Content Warning: Extreme violence between minors, and cursing

View all my reviews
Favorite Quote
Words are a weapon stronger than he knows. And songs are even greater. The words wake the mind. The melody wakes the heart.
Book Blurb
"I live for the dream that my children will be born free," she says. "That they will be what they like. That they will own the land their father gave them."

"I live for you," I say sadly.

Eo kisses my cheek. "Then you must live for more."
Darrow is a Red, a member of the lowest caste in the color-coded society of the future. Like his fellow Reds, he works all day, believing that he and his people are making the surface of Mars livable for future generations.
Yet he spends his life willingly, knowing that his blood and sweat will one day result in a better world for his children.
But Darrow and his kind have been betrayed. Soon he discovers that humanity already reached the surface generations ago. Vast cities and sprawling parks spread across the planet. Darrow—and Reds like him—are nothing more than slaves to a decadent ruling class.
Inspired by a longing for justice, and driven by the memory of lost love, Darrow sacrifices everything to infiltrate the legendary Institute, a proving ground for the dominant Gold caste, where the next generation of humanity's overlords struggle for power. He will be forced to compete for his life and the very future of civilization against the best and most brutal of Society's ruling class. There, he will stop at nothing to bring down his enemies… even if it means he has to become one of them to do so.