The Puppeteer by Kathryn Ann Kingsley

My rating: 5 of 5 stars

Cora is now trapped in a world she had believed to be impossible. Yet, she refuses to accept her fate. She will fight until she is free but will it cost more than she bargained for?
The second installment of the Harrow Faire series did not disappoint. Kingsley is gifted with story-telling and creating complex characters that I never thought I would root for. I was looking forward to learning more about our insane Puppeteer and I was delighted by the outcome.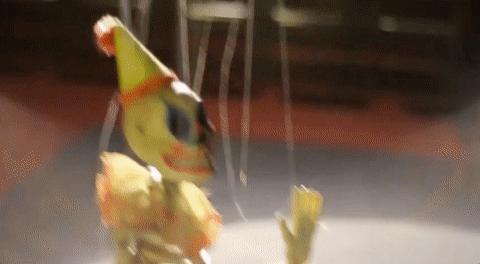 Although Simon is insane and by no means innocent, he is full of charm and wit that pulls you in for more. I loved that despite his misgivings, there were lines that he was not willing to cross which made him more likable and sympathetic.
Cora was amazing. Simply amazing. I love her so much and I am more than happy that she recognizes how to pick her battles and when she picks them? She goes all out. I chuckled more than once during some of her interactions with Simon and loved that she was sensible as always.
I was also charmed by the romance. I am usually not so forgiving when it comes to toxic relationships but Kingsley has masterfully handled this one very well. Both characters are imperfect but they both grow and learn together. It's dark but also complex enough to keep me interested.
Overall, I cannot get enough of this series and am off to read book three!
Tata!
Content Warning
Language and suggestive, sexual conversations. 18+
Favorite Quote
"I'm not brave. All I've done is panic since I got here."
"Is that so?" He was still stroking her cheek. She didn't know when she stopped being afraid of his touch. All it left behind now was warmth, and a strange electricity that crackled through her. He hummed thoughtfully. "I am not so sure. You came here to save your friend, knowing it would be your own demise. You have stood up to me at every opportunity. I think you are not as weak as you have come to believe."
Book Blurb
Silver strings she can't outrun…her trouble now has just begun.
After Cora Glass's life was stolen by Harrow Faire, things just keep going from bad to worse. Unable to run, unable to escape, there seems to be no way to avoid what she's become—the Contortionist. But a girl can only take so much.
Haunted by an abandoned and seemingly sentient circus? Fine.
The life of her best friend threatened unless she sacrificed herself? Fine.
Tormented and stalked by a grinning madman who wanted to kill her, and now wants to do worse? That's where Cora has to draw the line.
As she struggles with the knowledge that magic is real and she will never go home again, she is also forced to contend with the advances of a man who may be the devil himself. And just like the tales of old, she finds herself drawn to him. If only Harrow Faire would slow down and give her a second to catch her breath.
Too bad that doesn't seem to be in the cards.
__________________
If you're drawn to compelling villains and sinister love stories, The Puppeteer—book two of the Harrow Faire series by Kathryn Ann Kingsley—is your next book obsession! Dark fantasy and occult horror blend seamlessly with romance in this gripping page-turner!