The Moonfire Bride by Sylvia Mercedes

My rating: 5 of 5 stars
Valera lives a life filled with hardship until a mysterious fae claims her as his bride. The stranger claims he will not harm her but he gives her one rule: she cannot see his face. Determined to escape, Valera will do anything to see her sister again and guard her heart against her captor.
The Moonfire Bride is an enthralling fantasy romance based on the Greek lore: Eros and Psyche. It is also the first of the "Of Candlelight and Shadows" series. The Moonfire Bride is a slow-burn, fae retelling with strong characters and themes.
Valera is not your typical "kidnapee" and fights tooth and nail to resist Stockholm syndrome. She has passions and sympathetic feelings that made her likeable in my eyes. Even though Erolas (our hero) is kind and leaves her plenty of gifts, she can not overlook the fact that he kidnapped her. There are also plenty of secrets concerning the curse he cannot share with her, and by all rights, she is wary of him for it. I appreciate this as a reader because I feel like she acts realistically even if she hurts his feelings. However, the build up of the romance was hindered because of this but, I believe it leaves a lot of room for the second book to build up to it even better.
Despite her resistance, there is some hot chemistry between her and Erolas. I applaud the author for making a character we do not see and know much about likeable as well. He is mysterious but kind in all the right ways and has decent character growth that I was impressed with.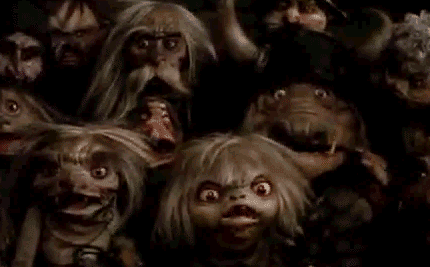 The other characters were also likeable despite them not being able to talk. We never get to "understand" what these quirky, fun creatures are saying but they are very lovable and unique. I like the idea of naked goblins running around and causing mischief and the author captured that to a T.
Besides characters, the pacing was more "slow", but it did not feel slow in the least. Even though there was not much "plot", this book focused more on "story" and I couldn't get enough of it. I simply ate up every page and wanted to know more and more. When I got to the end, I immediately downloaded the sequel. It has been a while since I have been this excited to finish a story.
Side note, this story also has major East of the Sun, West of the Moon vibes as well for anyone familiar with the European tale. It was adapted into a Norwegian film, The Polar Bear King:
In all, I would recommend this book especially if you like:
Fae
Strong, passionate, and creative heroines
Greek Mythology retellings
Slow-burns
Semi cliffhangers
Unconventional, and mysterious love interests
Character and story based books
Book Information
Genre: Fantasy Romance
Audience: YA/NA
Heat: Mild (no sex or kissing though)
Series: #1/2 Duology
Content: Parental abuse, naked goblin/druid creatures, mild swearing
Favorite Quote
"The passion of a true creator, now that is a sight worth seeing! The passion radiating from your spirit, bright as the quinsatra itself, surrounds you like a halo. An aura of pure power. It is . . . You are . . . dazzling."

Sylvia Mercedes
Book Blurb
Hers is a life without magic or romance. Until the night he whispers her name.
For years, Valera has worked weary hours as a seamstress just to keep food on the table. She would give her all to protect her little sister from the cruelties of the world . . . and the tantalizing lure of the fae forest. One day, she fears, the fae will spirit her sister away, and how can Valera hope to stop them?
Then the fae come. Not for her sister . . . but for her.
Trapped in a magnificent palace far from her own world, Valera finds herself the unwilling bride of an enigmatic fae lord. He claims he won't harm her and vows to return her home after a year and a day if she honors one rule: she must never see his face.
Determined to return to her sister at all costs, Valera struggles to unravel the mystery of her so-called husband. Why does he so desperately need a wife? And why her specifically? Torn between love, duty, and the unexpected freedom she finds in this strange new world, Valera must fight to find her place.
But will a burgeoning passion for the unseen figure in the shadows be her undoing?
The Moonfire Bride is book one of a two-part fae romance inspired by the myth of "Hades and Persephone" as well as "Eros and Psyche." Read today if you're craving a dark, swoon-worthy hero and a sweet, slow-burn romance with just a touch of steam!